French drain
inspection and cleaning in Montreal and its surroundings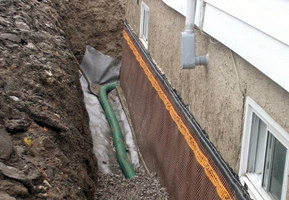 French drain systems are a connection device between several drain pipes that are positioned around a building to evacuate and prevent excess water. It is important to have your drain inspected (French drain cleaning) every year.
Why inspect a drain (French drain cleaning)?
A good quality French Drain, properly installed and in good condition, protects your home from humidity and water infiltration. When building a home, the French drain is often one of the most overlooked parts of the drainage system. Before investing thousands of dollars in this kind of system, it is imperative to have the drain inspected (French drain cleaning) by a competent team. This expertise will save you unnecessary expenses and will be your best investment.
Inspecting a drain (French drain cleaning)… Not to be overlooked!
Since 1955, the installation of French drains has been mandatory in Quebec. Its lifespan is about 30 years, but it can vary depending on the following problems:
bad installation

incorrectly positioned connection
does not follow the dripping slope
poorly compacted soil before laying the drain

clogged with dirt, sand or mud
the roots of some trees can cause serious blockages
iron ocher deposit
In such situations, your basement could become damp, give off odors and develop mold. This is why it is important to inspect your drain (French drain cleaning). Despite the precautions, fences, bottlenecks and installation by a specialist, it is possible that your French drain is clogged, especially in the spring season.
When the drain is connected to a catchment basin (called a sump), we can see a good part of the drain from the inside. However, this drain inspection (French drain cleaning) does not allow us to determine the height and the backfill materials, nor the quantity used during its installation. For a complete expertise, one or two excavations must be carried out in an equivalent number of corners of the house. We perform a viewing of the complete system of the house using a camera. The drain inspection (French drain cleaning) is then done using a pressurized water machine.
Using our sophisticated and specialized equipment, Drainage Québécois inspects your drain (French drain cleaning), unclogs and cleans the most blocked conduits, drains and pipes. Our tools and pressure pumps allow us to remove any obstruction that interferes with the flow of a sanitary sewer.