Grease trap

cleaning and emptying in Montreal and surrounding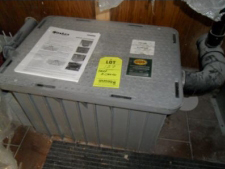 The grease and oil interceptor, commonly known as a grease trap (grease trap cleaning), is a tank connected to the sewer lines of establishments where there is a kitchen or a place equipped for food processing such as restaurants, institutions and food establishments, etc. The grease trap or your grease interceptor is used to retain and store grease, food and other particles from sinks and dishwashers. This grease trap is an essential tool in the proper functioning of a kitchen.
Are you looking for a fast and economical service for your grease trap cleaning and emptying?
Regular maintenance of the grease trap is of paramount importance. If the grease trap or your grease interceptor is not well maintained, the grease particles will end up in the outlet pipe, thus creating a narrowing of the walls until an almost complete obstruction. The outlet pipe being blocked, the tank will overflow and the dirty gray water will back up inside through floor drains, sinks and dishwashers. We recommend that our customers have their grease trap emptied (draining the grease trap) according to a pre-established frequency depending on the use and the capacity of the retention tank of the said grease trap. It is also important to clean the pipes downstream and upstream of the hatch. Our experienced technicians will be able to tell you the optimum frequency for emptying your grease trap according to your needs.
Frequent cleaning of your grease trap allows you to:
Reduce the causes of bad odors
Reduce pumping frequency
Facilitate the maintenance of the grease interceptor
Reduce grease overflow and drain cleaning
Reduce the use of chemicals
Reduce corrosion
Protect municipal sewer infrastructure
Drainage Québécois constantly invests in the training of its professionals, in order to provide you with high-calibre quality of execution when it comes to emptying grease traps. The expertise of his team earns him the trust of all. In addition, you can take advantage of full liability insurance. Our main area of ​​activity is the greater metropolitan area of ​​Montreal and its surroundings (North, South, East and West crown).
Here are some regulations in force concerning food establishments and their grease traps.